American Made Cellulite Treatment
THE #1 TOP RATED INNOVATIVE FORMULATED CELLULITE TREATMENT PRODUCT FOR THIGHS, HIPS, LEGS & STOMACH
A product that works
WHY CELLUAID?
CelluAid is a powerful cellulite treatment that tones the appearance of dimpled skin while helping to minimize the look of cellulite over time. Harnessing the power of quinoa extract and a breakthrough delivery system, it helps to slim the appearance of fatty areas and visibly smooth cellulite bumps, redefining the look of legs, stomach and thighs.
THE CELLUAID DIFFERENCE
WHAT MAKES CELLUAID SO UNIQUE
⎸ Diminishes the appearance of cellulite dimples, giving the skin a smooth, toned appearance.
⎸ Visibly contours and sculpts the appearance of stubborn areas for a sleeker silhouette.
⎸ Intensely hydrates and revitalizes to improve skin texture.
⎸ Slims the appearance of localized fat on the stomach, legs, hips, thighs and buttocks.
⎸ Rehydrates and replenishes to restore a smooth, healthy look to the skin.
⎸ Acts on the layer of fat cells below the skin's surface to help limit fat cell volume and expansion.
⎸ Minimizes the telltale orange peel appearance of cellulite on thighs and cellulite on legs.
⎸ Scientifically Proven Ingredients. No animal testing. Made in the USA.
ENTIRELY NEW APPROACH
FOR US THE UPHEAVAL IS EQUALLY INTENSE
Cellulite is a common—and complicated—issue. Though more common in women than in men, cellulite doesn't discriminate based on weight, body type or muscle tone. In fact, even traditionally "thin" and fit bodies often have cellulite.
Many myths exist about how to get rid of cellulite. To understand how to treat cellulite, we must first address its root causes. Cellulite doesn't exist as a result of fat alone. Instead, it is caused by fat cells that push toward the layer of connective tissue that sits above them. Connective cords in the skin pull down toward the muscle underneath, creating an uneven, dimpled effect. Factors like genetics, exercise habits and lifestyle choices like smoking may increase the likelihood of cellulite.
To target the cause of cellulite, the makers of CelluAid recognized the complex role that fat cells play in the formation of dimples. Our team of cosmetic chemists developed a formula with smart technology that fights the natural actions of fat cells and encourages cellulite reduction. CelluAid's breakthrough delivery system targets these fat cells directly. To do this, we tapped into the power of quinoa, a unique superfood plant rich in protein, along with proven hydrators that attract moisture to the skin, so it looks smooth, supple and healthy.
CelluAid supports the ability to burn stored fat, which helps to reduce the volume and expansion of cells that can protrude through connective tissue and cause dimpling. Think of this as "shrinking" fat cells: Smaller—and fewer—fat cells mean less fat pushing toward the surface, thereby minimizing the appearance of lumps and bumps known as cellulite.
HOW CELLUAID WORKS
TARGETS STORED FAT CELLS
CelluAid goes to work directly on fat cells within the adipose layer of the skin. This high-performance anti cellulite cream helps to "rewire" the behavior of fat cells so that they are less likely to contribute to visible dimples on the skin.
First, a patented form of quinoa seed extract encourages the burning of stored fat within these cells, to help reduce their visible volume. Then, it targets a natural enzyme that inhibits fatty acids from penetrating fat cells. This helps to control their tendency to expand.
By influencing these behaviors, our innovative technology minimizes the visibility of fat that bulges and causes cellulite. Quinoa seed extract also helps to support skin elasticity for a healthy and sculpted appearance.
Furthermore, a unique complex called Adiposlim™ features a blend of lauric acid and proline that helps to prevent the formation and storage of fat. It is clinically tested and shown to smooth the appearance of the skin and provide a visual improvement in cellulite's appearance.
REFINES & SMOOTHES THE SKIN'S LOOK AND FEEL
CelluAid supports the integrity of the skin. It helps to promote elasticity and firmness to give the skin a smooth appearance. It revitalizes the appearance of skin texture and tone. It also deeply moisturizes with ingredients like Caffeine, Aloe and Squalane for skin that looks and feels healthier over time.
CELLUAID KEY INGREDIENTS
⎸ CAFFEINE: Caffeine have soothing and antioxidant properties, especially when skin is exposed to UV light. It can penetrate skin and has a constricting effect, which can help improve the look of redness.
⎸ QUINOA SEED EXTRACT: Quinoa is a gluten-free ancient grain and known superfood rich in vitamins, minerals and protein. In CelluAid, our specially extracted form of quinoa supports the burning of stored fat, reducing the "clumping" and accumulation of fat cells that show up on the skin's surface as cellulite lumps and bumps. Quinoa also helps to strengthen the skin and improve its resilience.
⎸ ADIPOSLIM: This blend of proline and naturally derived lauric acid helps to reduce the signature orange peel effect of cellulite and smooth the look of uneven skin. It supports the breakdown of fat cells with the goal of "emptying" these cells of stored fat that can push into the skin's surface and cause bumpy, lumpy texture.
⎸ SQUALANE: Our vegan form of squalane is derived from plant sugar. Squalane is highly regarded for its ability to mimic the skin's natural sebum. It is smooth and silky to the touch, helping to give CelluAid a creamy, luxurious texture that melts into the skin. It replenishes moisture to smooth and soften the appearance of rough skin texture and irregularities, while also improving skin elasticity and helping to support a healthy skin barrier.
⎸ HYALURONIC ACID: Hyaluronic acid is one of the most effective moisturizers to improve dry skin. Known for the impressive ability to hold up to 1,000 times its weight in water, hyaluronic acid attracts and locks moisture to the skin and helps to prevent moisture from escaping. It leaves skin hydrated, smooth and plump looking.
FOLLOW THE EXACT DIRECTIONS BELOW FOR BEST RESULTS
HOW TO APPLY CELLUAID
Make CelluAid your go-to body moisturizer and cellulite treatment after showering. Gently massage CelluAid into desired areas; including hips, buttocks, and thighs and inside the upper arms using circular upward motions. Finish by applying the product to the stomach using clockwise circular motions. For best results, use CelluAid morning and evening. You can also read more
CelluAid reviews.
CelluAid Customer Reviews
★★★★★

After having my two children, I started to see cellulite on my body for the first time. I was devastated! I heard that sugar is the cause of it but even though I stopped eating sugar it didn't go away. When I purchased this product I thought it was worth a try. Because there's not much that's as ugly to me as cellulite. :/ It took several weeks actually but I used it daily with no interruptions and I started to see results gradually. It's been 2 1/2 months and I definitely see a real difference. Highly recommend!

Elizabeth West
★★★★★

So I did a lot of research, read a lot of reviews before purchasing CelluAid. I weighed two other products for close to a month before deciding on this cream. The package came within three days, and I'm honestly amazed at the result. I apply twice daily, in the morning and night. My dimpled skin is smoothing out, and it helps to tighten the skin on my thighs. I love the fragrance too. You should give it a try.

Gabriela Rodriguez
★★★★★

CelluAid really worked for me and fulfilled all its promises. First, let me say I saw result in 1 week!!! I used to have this dimpled, cottage cheese skin on my buttock and thighs. I was so embarrassed to wear shorts, and the beach was a no-go area for me. After one week of using CelluAid, I saw an incredible result. It made my ugly dimpled skin tight and smooth that I can now wear anything loose. I highly recommend this product. The cream doesn't contain any harmful ingredients, and it doesn't leave a greasy feeling on the skin.

Marissa Williams
★★★★★

My cellulite came after my pregnancy. They were so prevalent that I had to stop wearing short. I started exercising while I cut down on my calories drastically. But it wouldn't budge. Then it began to appear on my stomach and thighs! I knew I needed to take action fast. I researched a lot on the best way out to my predicament. I studied more and found some interesting things about CelluAid. Then I ordered it, immediately. I have to tell you that my cellulite started fading within four weeks. This is by far the best anti-cellulite product in the world!

Amelia Jackson
★★★★★

Trying to shed weight at 59, I was hit with a lot of stretch marks and cellulite that refuse to go even after several attempts on anti-cellulite and stretch mark removers. I did practically everything, cut down calories, exercise, bought a lot of over the counter creams that didn't work. Then I started buying Amazon's bestselling anti-cellulite creams. Some really hurt, others left a terrible, irritating greasy feeling on my skin. Long story short, my friend recommended this amazing product to me, and I decided to give it a go. First thing I was noticed the beautiful pack and the fantastic consistency. It glides smoothly on my skin without leaving any oily layer. Also, it didn't irritate my skin. Now it is three weeks and CelluAid is really tightening and fading my cellulite. I highly recommend this anti-cellulite remedy.

Bethany Cole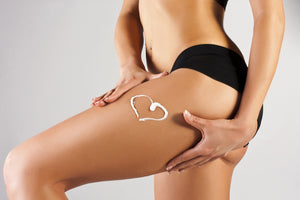 Energize your skin
Discover a cellulite treatment lotion powered by natural ingredients, backed by cutting-edge science.
Order Yours